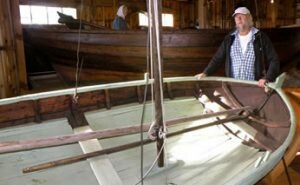 The Archipelago Museum in Lappo – The most comprehensive collection of rustic wooden boats in the Baltic sea.
Opening hours in the summer of 2022 are June 18 – August 8 from 11 a.m. to 2 p.m. and 3 p.m. to 6 p.m.
Boats and life in the archipelago go hand in hand. In the archipelago boats are, and have always been, a part of daily life. But times are changing. In times gone by all boats were powered by oars and sails, on fishing trips as well as trips to the city.
On the piers in Finnvik were all kinds of old wooden boats: julles, roddsumps, skötboats and storboats – every one of them built with knowledge and feel, good to handle and beautiful to the eye.
The Archipelago Museum in Lappo displays traditional Åland archipelago and fishing culture, as well as the boats that were used on the islands: in fishing, on hunting and market boat trips, in transporting the post and on milking trips. In the unique collections are about ten rustic wooden boats – among them the last remaining boat of a type called "Storbåt". A permanent photo exhibition shows old time life in the village. In connection to the museum is a smithy, restored to it's original state, that contains a folk museum with a collection of historical utility objects.
Getting here
The Archipelago Museum is located on Lappo island in the Brändö municipality in the norteastern part of the Åland archipelago. Lappo is located along Ålandstrafiken's so called Northern line from Kustavi in Finland Proper to Vårdö on Åland.
For those traveling with a boat of their own the island has a guest harbourwith space for 80 boats just a short walk from the museum. Lappo's coordinates are 60°19,03'N & 20°59,90'E.